Excerpts from Constance Gates Markle's Diary, 1941-1944
by

Constance Gates Markle

1941-44, Woodcliff, NJ
Photos by Constance Gates Markle
Photos of Constance and photo processing by Gilbert J. Markle
(click on photos 2x to enlarge)
Diary-
begun in December, 1941
Prompted by Grandma Markle [Mary Lundrigan Davis Markle]
who said itwould be a wonderful thing
to look through it in many years to come.
December 6th, [1941]
Baby and I up at 7:oo AM. He played in his pen, ate breakfast and then onto the front porch.
Such a joy, particularly lately -- only 7 teeth, -- 26 1/2 pounds.
Tonight, he grabbed Gil's cigarette lighter, and began to shave himself!
Apparently, he was imitating what he's seen his Daddy do so many times.
He says Da da, Ma ma, "wight." He talks a blue streak, but really says nothing understandable.
He plays "hide and go seek" with us too.

December 24 Wednesday
Baby was so excited today. Grandma has given a black hobbyhorse and two rubber balls to Gil S.
She couldn't wait till Christmas. Gil was playing with baby in the bedroom –
(just waking up) (noon) and Grandma and I heard a loud call, "Connie!" from Gil.
We hurried in and found the baby had opened the bedroom closet door
and discovered the tiny red wagon -- the carpet sweeper -- and tiny ball!
He was screaming with excitement. I gave him the ball to quiet him.
Big Gil was furious because he'd found the toys but grandma and I thought it was darling.

December 25 Christmas
Bill Hickey-Joe Smith came from Peekskill last night. They brought Gil S. a red wagon, and a big black teddy bear.
We all had breakfast at 7:30-8:00 and sat in the front room, while baby walked into the room.
The tree was lighted with all the toys around the tree. He wasn't at all excited- but went from one toy to another one.
We think he was too dumbfounded to show excitement.

Later we went upstairs to Scherrer's – They gave him a bathrobe -slippers, little Mickey Mouse
who plays the xylophone as he is pulled along and a chain of ducks.
Mother sent a navy blue corduroy suit and hat, blocks, 2 (red and blue ) overalls and Patty, two little rubber dolls.
Daddy and I bought a red wagon, carpet sweeper, Lazy Bones ragdoll, and a musical top. A baby carriage too.

December 27 Saturday
Today the baby awoke at seven talking! He tries so hard to say something but can't make us understand.
He goes continuously, though. So far, he says mama, dada, block, ball --
he played with a gun game tonight with his Daddy -replaced the "bullets" in the gun –
Grandma takes her teeth out and baby loves it!
He laughs and laughs and tries to take his out too and grunting doing it. He has nine teeth now.

December 28 Sunday
Took baby to store in red wagon! He stayed in it all the way!
Gil said. "Want to go into your playpen?" And he (baby) walked into the hallway and tried to pull it out!
Went to bed without bottle tonight -- didn't cry at all!

December 29 -- Monday.
Today the baby has done two new things. Grandma asked him, "Where's Connie?" and he pointed to me.
She and I both repeated it to make sure he hadn't made a mistake.
But he knew what he was doing. Then too, he's learned to say, "it's cold out."
He screams a little to make you think he feels cold.
What a grand little boy he is! He is still trying to talk. He goes forever and still says nothing.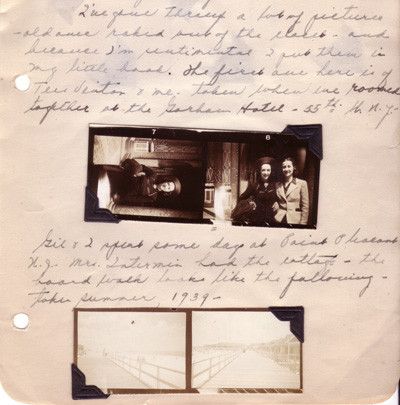 I've gone through a lot of pictures -- old ones raked out of the closet --
and because I'm sentimental I put them in my little book.
The first one here is of Tess Vinton and me --
taken when we roomed together at the Gorham Hotel -- 55th St., N.Y.

Gil and I spent some days at Point Pleasant, N. J. Mrs. Intermin had the cottage.
The boardwalk looks like the following -- taken summer, 1939-

Summer, 1939
These are shots taken of each other at the shore.
They are my favorites of all the pictures we've taken.
The following fall Gil and I were married on a Friday afternoon, at 2:45 PM at the courthouse in New York City.
Gil bought a yellow chrysanthemum and himself a button chrysanthemum.
This picture was taken in front of Gil's home- 77th St., Woodcliff, N.J., before we left to be married.

The rooms, chapel, of the justice of the peace, were lovely -- it was of oak, with each corner banked with ferns.
The ceremony was short, and simple, and beautiful.
We walked out of the building and stopped a man in front of the courthouse --
I asked him to take our picture –that we'd just been married -- and here's what he took.
We went to Longchamps a block away, called Footie [Dr. Footerman] and his Mommie Markle --
we went to the apartment and Louise was there from the office.
We three had dinner together -- and later went out with her and Lou Levinson for supper.
At midnight we took a cab to the St. Moritz Hotel --
it was a lovely room -- facing the park. We were up so high.
I remember having breakfast served in our room at how we talked and talked.
Because we were alone, it was the grandest weekend we've ever had.

Also, I found this picture of brother Bill at Purdue.
He was in military training when this picture was taken.
Mom sent it to me a few months ago.
The following picture was taken about summer of 1937-
on the roof garden at 55th St. apartment [Gorham Hotel, 55th St. New York City, NY]
and
this one at NBC after we had been married. It was two years later.
Gil came in at 4:00 AM! had worked till then.
He told me of playing on a record for Peicie
[Gil's nickname for Connie], "April in Paris."
He said that Bea Wain and Andre Baruch had called.
So he kidded on the air that Bea had not only not given him
a Christmas gift but also had apologized for it.
She called back and said not to mind that, he'd have it today.
Today I bought the baby's first defense stamps!

New Year's Day 1942.
Sitting at home with grandma Markle -- she's reading an old diary of her.
I met Gil last night at NBC -- went to M. [ master control] with him
and met Harold and Kenny. saw the repeat DA [District Attorney]
show and went to Ed Byron's home afterward.
We stayed till 3:30 AM -- everything was lovely --
Peter Van Studen, Sylvia Loie, Vivki Vola, Fred Utell, D. Eagelback-,
and all on the show. Went in order to say happy New Year to Lou Levinson.
We got home at 5:25 -- baby awoke at seven and though I'd been up all day,
now I don't feel tired. Patty called while I was away last night.

Baby is cutting more teeth -- he's in bed, early every night by 6 PM.
Forgot to say that Gil received $250 from Mr. Hummers as a gift for Xmas,
$75 from Ed Byron and $20 from Peter Van Studen, to "buy a gift for the baby."

We are deep in war now.
I'm having trouble getting sugar and paper.
We've gotten a lovely letter from Mother for New Year's Day.
Monday, January 12, 1942.
Mommie M. and I are freezing together tonight. Scherrer's are "still out" again
and we're listening to Jimmy Melton sing.
Mommie will leave on Sunday for Savanna, it is so cold here now.
Baby Gil is cutting all his teeth. I think.
He has a little rash and has refused to eat solid food today.
Barbara A. bought a ting [?] tag machine to him today
and I bought a little blue shovel, for the snow and him!
He cried nearly 15 minutes today because he didn't want to come in from outdoors.!
He is 27 inches tall and weighs 25 1/2 pounds --
and he had the Schlick test too. He's alright too.

Last Sunday we went to Margaret O'Connor's home for tea.
Baby Gil was in amazement all afternoon at the trains of Margaret's brother Edward.
He played with all the children- Walter Goodman and Barbara A. and sat at the table with them
and ate and drank his fruit juice. He is at home with little children – Oh Gil and I are so glad.
Gil brought home a sleigh with a "baby top" Saturday night for little Gil!
He is still screaming over it! And big Gil is even more delighted over it.
God bless them both -- my little family -- and dear Mommie Markle.
Sis is going to have a baby in July --
a letter from mom today says that Gussie and Bill are going to leave soon
to join the radio division (engineering )and air corps in the army.
Poor mom and dad -- they're seeing their family go, each in their own way.
Monday, January 19
Alone listening to Gil's show with Bea Wain. This has been a long, busy day,
but I've enjoyed it so much. Mommie left yesterday afternoon for Savanna --
Bill came down to see her go -- Today I began to clean the house, wash clothes.
The baby was grand. He takes such good care of himself.
Oh, a new trick. In the bathtub -- after the water has gone out --
he lies in the tub, with ear on the bottom- and loves to hear the noise when he pulls away.
He cautiously climbs up onto the deck now, and opens the door to the books.
This is the second day that he has remained dry all day long.
He tells me when he wants to go to the bathroom!
He has been so easy to train, and we all thought it would be such a job.
He jabbers all the time, but so far can't say one word, but "well."
He has many teeth -- all coming through at the same time, and he is very good.
In his waking hours now, yesterday and today he has played
with the wheels on his carriage, and his doll carriage.
His eyes are growing gray and his hair darker.
Gil loves Bill, (6 mos, 19th of this month), plays with him,
wants to know, "when is my brother coming down stairs?"
At night now, I've been giving them a bath together in the tub-
and what a show!

Little Gil, big Gil and Bill, Feb. 1944
Connie and Bill, Winter, 1944

In the AM, 7:00 sharp- he [baby Gil] calls- "Dear Mommie- dear Mommie"-
once it was 6:30 and I told him not to wake up Lazy bones-
his rag doll (in bed with him)
and next A.M he called-
"Dear Mommie- Lazy Bones wake awk [up]"-!
He talked to Nana Gates last Wed: (Feb 3rd).
"I luv you Nana Gates- I luv you Grandpa Gates-
New baby tummin' our house-
hello Pot (Pat) and Aunt Francie"
and then he was cross because he couldn't talk to the "operator."

Two days ago I bought a record (3 parts)-a story with sound effects about a train,
going "over the mountain." It is carrying animals of all kinds,
"dolls with brown hair and dolls with yellow hair." [The Little Engine That Could].
He [baby Gil] listens to it by the hour- "please other record Mummie", "one more"
and he points his forefinger into the air.

This Xmas he and his Daddy spent time on the new Lionel train set Grandpa Gates sent,
and baby showed his intelligence by one day "plugging into the wall"-
whereupon we heard the trains moving.
We hurried into the room and found him sitting on the floor
at the transformer, regulating the speed. Two years and 6 months!


Gil S., Winter, 1942